At Stock SKC we have two main Instructors, Sensei Terry Irving and Sensei Adam Purkiss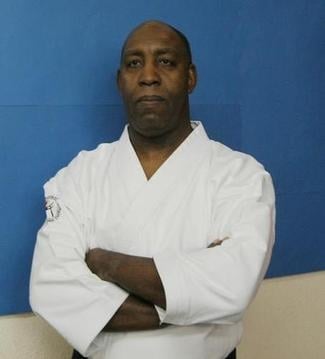 Sensei Terry Irving 5th Dan KUGB is the club`s founder and Chief Instructor.
He is a Qualified KUGB Instructor a KUGB Assessor and he is CRB Checked,
First Aid Trained and a Long Standing KUGB member for over 40 years.
Sensei Terry has been involved in the martial arts since 1962 when he first started training in Judo under Mr V.C.F Bell,
then later with Mr Bill WOODS and Mr Cliff BAKER-BROWN. At this time he was also a Amateur Boxer and represented Essex at light welter and welterweight divisions
He later began Karate,under the instruction of Mr. BELL, the man widely credited as the first Europeon to introduce Karate to the UK.
He represented Basildon in numerous inter-town festivals of sport and was a member of their successful Judo Team, also winning individual titles along the way. Whilst training in Karate under Mr Bell, he met, was instructed by and still remains in touch with Paul MASTERS, now a successful Osteopath.
The style then was Yoseikan/Shotokan.
Sensei Terry attained his first Dan Black Belt in Karate and went on to win the 1974 KUGB Southern Region Senior Kumite Title. He was voted Basildon Sports Council`s Sports Personality of the Year and over time, became an Instructor under Mr Bell. He was selected by the late Sensei ENOEDA to join the Great Britain National Karate Squad, training with many highly respected KUGB Karate-ka.
Sensei Terry later joined Thames SKC under the Instruction of Ray and Pauline FULLER (BINDRA).
He was captain of the club team and represented the Country in Home International Competitions.
He was persuaded to open a club in Stock near Chelmsford Essex. The club retains the name Stock Shotokan Karate Club though it is no longer based there.
--------------------------------------------------------------------------------------------------------------------------------------------------------------------------------------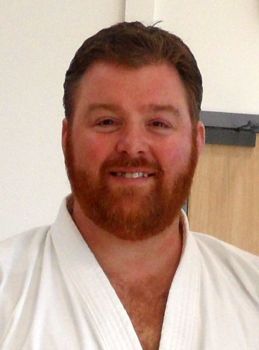 Sensei Adam Purkiss 5th Dan KUGB, is the club`s Senior Instructor.
He is a Qualified KUGB Instructor, CRB Checked and First Aid Trained
and a Long Standing KUGB member with over 30 years experience.
Sensei Adam be
gan Karate in 1988 at Stock SKC under Sensei Terry Irving and Sensei Graham Cole.
He passed his Shodan in 1993 and Nidan in 1996 under Sensei Enoeda.
Then Sandan in 2006, Yondan in 2011 and Godan in 2016 under Sensei Andy Sherry.
He has represented the club at many competitions winning medals and trophies in KUGB events and All Style competitions.
As an individual in 2000 he came 3rd in the Mens Kata at the KUGB Southern Region and
has been placed in Team Kata in 1993 and 2003.
He was also part of the winning Team Kata at the Essex Trophy three years running(1999,2000,2001)
He also played rugby at Westcliff RFC for over 20 years.
He is a regular on the KUGB Spring Course in Devon and Summer School in Lancaster
and a member of the Central Region Kata Squad under Sensei Frank Brennan.
-------------------------------------------------------------------------------------------------------------------------------------------------------------------------
We also have a team of Qualified KUGB Instructors that are here to help